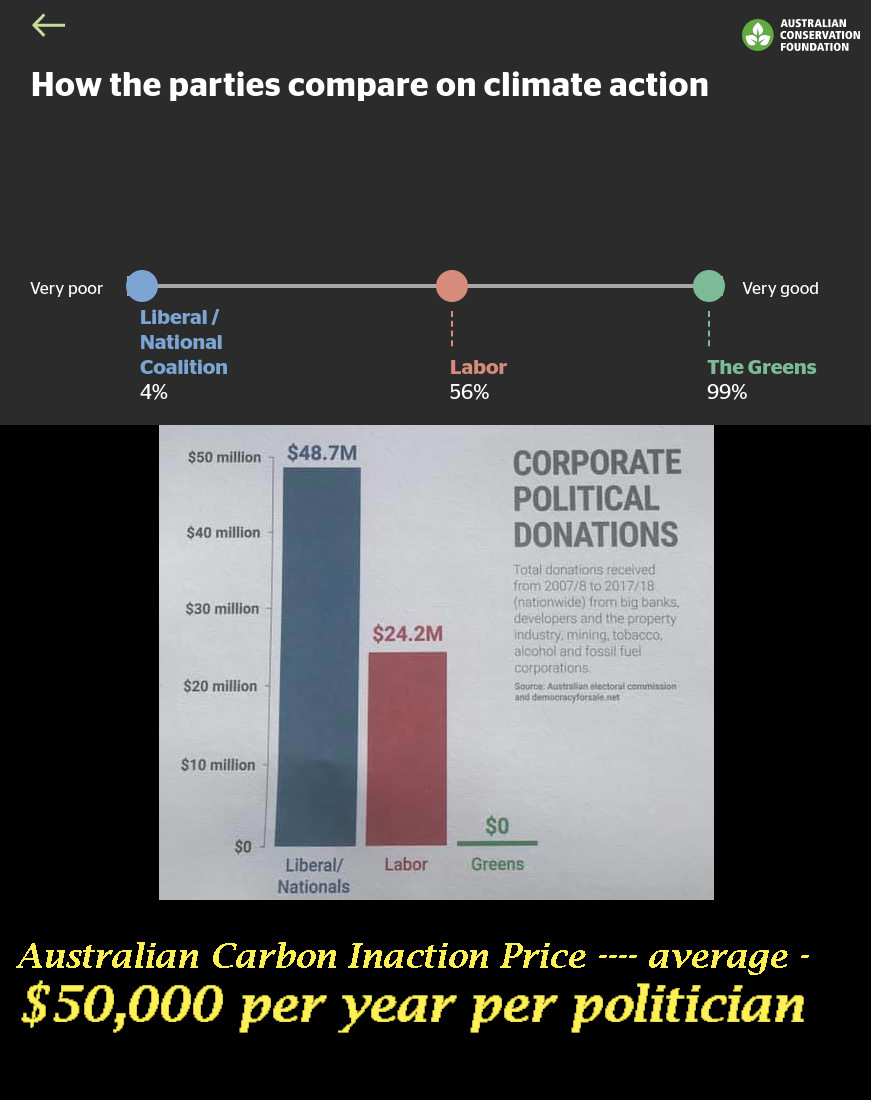 The Australian Carbon Price - How much does Australian climate inaction cost?
Australian politicians are really cheap. It works out to be only $50,000 per year per politician.
On average for 150 members of Federal Parliament , over 10 years, about $75 million direct party donations.

Compare to billions of public taxpayer subsidies and favours that fossil fuel companies get back.
Then add all the Renewable Energy go slow, and public climate change obfuscation. That will add to the trillions of dollars lost over our global future.
The Australian Carbon Price works out to be strictly highly negative dollars per tonne of carbon. We get to pay them now to pollute, and pay climate costs later.
An honest australian politician is one who keeps staying bought. To the extent that some small parties and independents stay out of the sweetheart deals, and current donation disclosures are late or not at all, the base political bribe rate is probably a bit higher.
Various perks and lurks and other deals of course, are likely to sweeten the political cake walk. Ministers for environment, resources and climate inaction so often get lucrative post career positions with mining corporations.
Of course the top jobs and party-line enforcers probably get more in kick-backs.
No wonder the Liberal Party of Australia don't want public ICAC hearings, with so many embarrassing corrupt connections to hide.
The going political rate for climate in-action is so little, but the global cost could be the entire human species.
The Scott Morrison re-election campaign has been described as "small-target". It is a small target that hides a massive lump of coal. Scott Morrison's advisors and speech-writers are appointee's from the coal industry. His chief ministers have deep ties to the coal industry. The Coal Cancer has replaced anything of general good in the Liberal National Party. Scott Morrison is effectively a Coal Stuffed Puppet, speaking their lies. Nothing of him or his election campaign is genuinely not coal. His entire election campaign has been a Big Coal Lie.
Greenpeace have put together a report on many of the rafts of links between Big Coal, Murdoch NewsFork, the membership of the Liberal National Parties, the Minerals Council of Australia. The links and relationships are as thick as thieves. The report and video is accessible at http://act.greenpeace.org.au/dirtypower