Join WSROC and The Hills Doctors Association for an overview of the latest research and resources on heat and health in Western Sydney.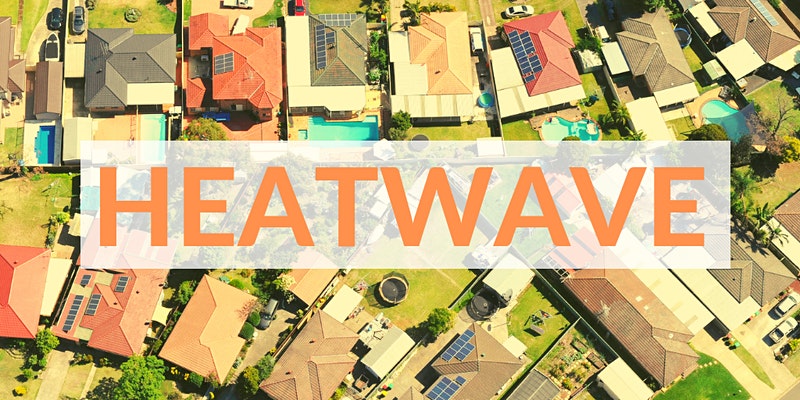 About this event
When: 6.30 - 8.30pm, Wednesday 16 February 2022
Where: Zoom (link provided on registration)
Cost: Free
Heatwaves are Australia's most dangerous natural hazard, responsible for more deaths than storms, bush fires and floods combined. With longer, hotter summers predicted, it is important health practitioners understand how heat impacts common health conditions, and the patients that live with them.
Join us for an online seminar to discuss the impacts of heat on the human body, medications and mental health, as well as a broader look into Western Sydney's heat challenge and what is being done to cool our region and manage the impacts of extreme heat.
This even is presented by WSROC and The Hills Doctors Association, with speakers from Australian Medical Association NSW, Doctors for the Environment, RACGP, RANZCP, WentWest, Western Sydney Local Health District, Western Sydney University, and University of Sydney.
AGENDA
Welcome - Dr Kim Loo, Hills Doctor's Association, AMA NSW, Doctors for the Environment
Physiology of heat and the human body - Dr Ollie Jay , University of Sydney
Heat and Western Sydney's health - Dr Michelle Crockett , WentWest
Medications and heatwaves - Tim Perry , General practice pharmacist lead
Heat and mental health - Dr Cybele Dey, Royal Australian and NZ College of Psychiatrists, Doctors for the Environment
Health pathways and professionals resources - Elizabeth Leece, WSLHD
Heat and the built environment - Agnieszka Wujeska-Klause, Western Sydney University
Turning down the heat: Policy into practice - Kelly Gee, WSROC
Questions and closing remarks - Dr Kim Loo, Hills Doctor's Association, AMA NSW, Doctors for the Environment
Register using this EventBrite Link
--- https://www.eventbrite.com.au/e/western-sydney-heat-and-health-forum-tickets-261476191327
Further information: Kelly Gee, 0425 871 868, kelly@wsroc.com.au