Shinehub community power events at Dundas Community Hall Wednesday 19th September 2018.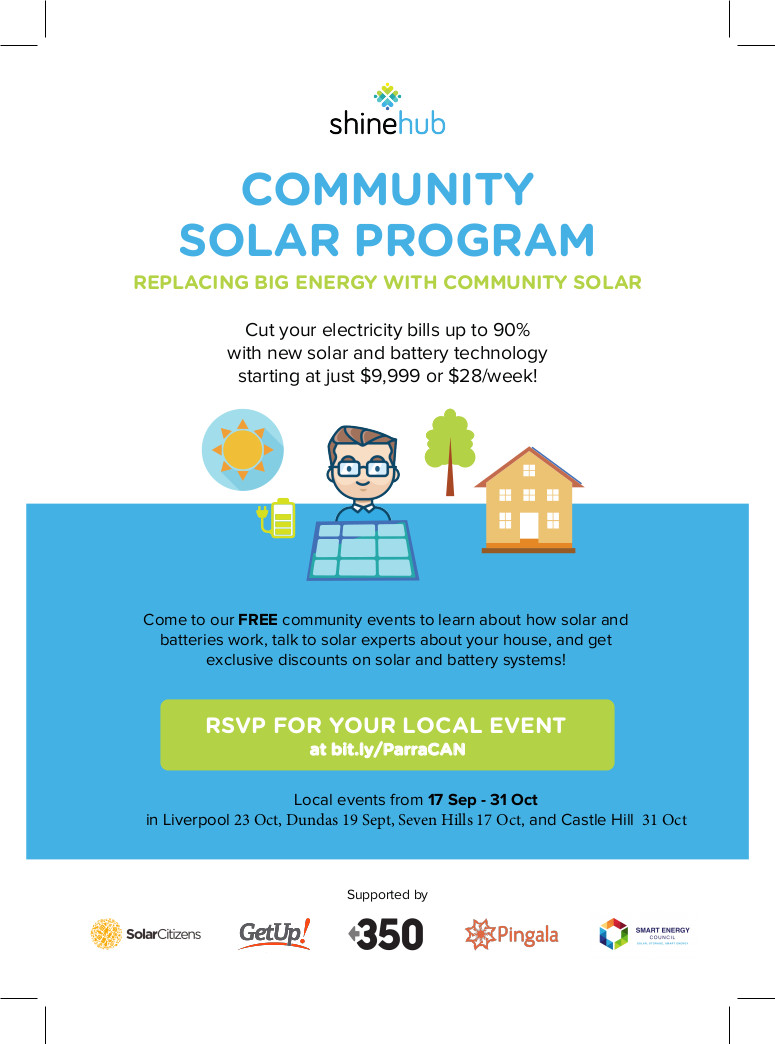 Australians pay some of the highest prices in the world for dirty unsustainable coal-fired energy. But solar gives you the power to fight back.
ShineHub - Pingala in partnership with ParraCAN are launching a solar and battery campaign to lower home energy costs=2C by up to 90%. In this process you will be helping to build Sydney's largest virtual power plant.
ParraCAN's particular local events will be in Dundas on Wednesday 19 September, with choice of starting at 2 pm or 6.30pm.
Go to ShineHub registration page for details of this and other event dates, times and places that are available during September - November period.

Interested in making best use of renewable energy with your own Solar Panels and Energy Storage? Or How to reduce your electricity bills to a minimum? At our ParraCAN hosted ShineHub event attendees will be able to meet with ShineHub system design engineers and get individual consultations and discuss install or upgrade options for good quality custom systems. If you choose to buy you will get setup and installation savings from the bulk discounts generated by this and other events around Sydney.
Current home battery storage and solar panel economics are already power bill savers.

Panel only packages start at $3,499 or $16/week * Panel + Battery packages start at $9,999 or $28/week.
ParraCAN gets a small commission when you use our links on this email to attend an event with ShineHub.
So we don't mind if you forward this email to people you know! Attend any one of two sessions -- 2 pm OR 6.30pm, or book for a ssession at various times and places around Sydney.

Attendence is free but please RSVP** at http://www.shinehub.com.au/sydney?lead_source=ParraCAN as
booking numbers are reasonably limited for catering and to allow time for individual consultations.
On another issue related to Climate Change politics, active ParraCAN members have been doing "Climate Change conversation survey" at the Parramatta Farmers Markets on recent Fridays. This is part of a nation wide campaign co-ordinated by the Australian Conservation Foundation to make climate change mitigation and renewable energy part of everyday conversation to make it the most critical issue for Federal and State politics.
Here we have found the response has been high for taking actions to stop burning and exporting coal and move as fast as possible to 100% clean renewable energy. ParraCAN aims to take this ACF climate conversations campaign into the Fairfield - Smithfield area (McMahon electorate) and we would love you to join us in this campaign. If you are interested contact Michael Rynn on 0414 632 854 or parracan300@gmail.com.